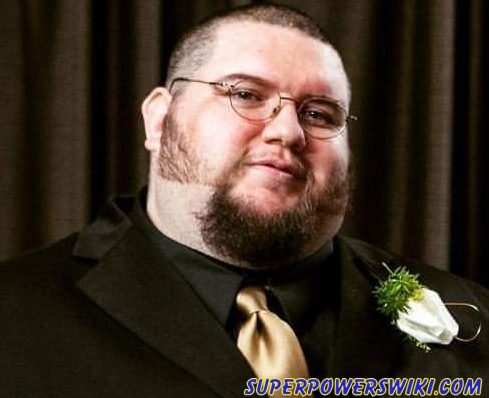 Like many of us Super Powers fans, we became friends with Leroy through Super Powers collector groups online, as well as communities like this one.  He left us too soon at the age of 40 due to health related circumstances, and will be greatly missed.
Leroy had a dream of one day opening a Super Powers museum to share with the world his love for all things related to the toy line.  He collected all things Super Powers, whether it was an action figure or a party favor, if it had the shooting stars he wanted it.  I also collected nearly anything I could find bearing the Super Powers logo, but my main focus has been cardback variations and preproduction (where I can find it and/or afford it) and those were two areas Leroy didn't really focus too much on, especially compared to all of the other non-figure toys and ephemera.  Because of our shared love of the line, and differing focus areas within the line, we naturally became each others perfect collector counterparts.  In many instances, teaming up to collect the line where ultimately it didn't matter which one of us got the rare item that became available for sale as long as one of us got it.  We figured between the two of us we could make up the bulk of every Super Powers item ever produced, and while Leroy's dream of making a museum seemed like a costly and long term endeavor… since I have a web designer background I decided making a "wiki" type site to document every Super Powers item was very feasible and we were the perfect team to do so.  So a few years ago we started on this goal of creating this very wiki site.  Although Leroy never got to see it launch live to the public, he did see a lot of the progress that has happened behind the scenes several months before his passing, and for that I am grateful.  I'm hoping that with this site his memory, his collection, and his dreams will live on.  He certainly was my collector counterpart, but more importantly over the last several years he became a true friend.  Someone I could count on, someone I could trust, someone I could talk about anything with, and without a doubt the biggest heart out of anyone I've ever met.  The internet is a strange and wonderful animal, makes the world much smaller and lets you meet people and talk to people that you likely wouldn't have gotten the chance to do otherwise.  While I've only met Leroy in person one time, I'm very grateful that I did and grateful that I got to know him so well like I'm sure many others in this community have as well.
If you look at where Leroy's heart and mind were directed, you can quickly see what kind of a person he really was.  Since I'm a business owner, he would ask my advice on certain things about a comic shop/toy store business he wanted to open, and one day he sent me his business plan to review and help him get started with it.  He had just started his business plan and it had no numbers, no projected sales, no mention of overheads.  He had a few sentences on a "Store Policies" section he started, a few lines under types of products sold, an area for incentive programs for comic book subscribers, and then a very large and detailed section of his business plan called "Community Involvement".  I was going to summarize his programs, but instead I decided to copy and paste them right out of his business plan.
---
Community Involvement:
B.A.S.I.C. (Bullying Another Student Isn't Cool) is an anti-bulling program that is badly needed in today's school, as many students are bullied before, during and after school hours. This program my team and I would explain how each person is unique and yet have many similarities that make us one. Not only do I want people to feel safe and comfortable in my shop, but also in our community as well. This program would be offered at the beginning of the school year, before the Holiday season and right before school let out for the summer. Students will be supplied with a booklet as a resource of what was taught, list of safe places for them to seek help, counseling or support.
Heroes for Heroes is a community program that individuals can adopt a Soldier who has been deployed from the 29 Palms Marine Base. Soldiers who are about to be deployed can come into my shop and fill out a short questionnaire of items they would like shipped to them while gone. This can be from personal items to comics.
Heroes for Sidekicks is for children of deployed Soldiers who are away during the child's birthday, holiday or other special occasions. Soldiers who are about to be deployed can come to my shop and request Comic items that they wish to purchase or have purchase that would be delivered on or before their special day. At that time a recorded message will be taped of Parent giving the gift to them and what a gift that would be.
Comics for Comfort is a program that will provide Police, Fire Stations and EMTs with a gift bag that includes a Plush toy and a comic to give a child who is involved in a stressful emergency situation.
Angel View Children's Hospital fundraisers such as a 5k run/walk where applicants enter and receive Pledge Sheets to get pledges. On the day of the event each applicant that comes with one or more pledge sheets is given a sponsored T-Shirt and Race number. Tables can be rented by vendors, Food Truck, Licensed food vendors, Dunk Tank, raffles, drawings, 50/50, etc.
Special Olympics Games it is our goal to have an event that recognizes the needs of children who are either ADA or other mental disabilities. To have a sponsored event that will not only help to pay for the event, awards, but also to encourage and acknowledge them as fellow citizens of our community.
Back to School backpack Give Away we can be a drop off location for individuals who which to donate listed school items for the children in need. We will join other local agencies that are promoting and putting together school back packs.
Toys for Tot Drive location we can be a drop off location for Toys for Tots
SUMMER PROGRAMS OFFERED
ART
– Art classes will be offered in our community rooms for ages __ to __ for $__ per child. An Art Scholarship will be available to those who qualify. This will be a 12 week program where the final projects will be displayed at a Gallery Opening night, where their artwork will be put up for Silent Auction, with proceeds going towards replacing art supplies for the next class. Parental supervision is required.
READING LESSONS
– The reading portion I would ask a teacher or maybe a collage student who needs credits to help teach this class. as most know I am horribly dyslexic and reading was difficult for me as a child. This one of the reasons I am so into comics… even if I couldn't understand the words, I could look at the picture and still figure out what was going on.
---
In honor of Leroy, his family has plans of pursuing a comic book and comic art shop in Joshua Tree CA, in the same spot Leroy planned on opening, but in the form of an internet cafe / comic shop.  As of now, they don't have the staff or means to launch all of the Community Involvement programs that Leroy intended on starting up once the shop opens, but they are for sure going to start up their own Heroes for Heroes program, B.A.S.I.C. (Anti-Bullying) program, with the possibility of others in the future.  If you would like to contribute to the Heroes for Heroes or BASIC programs, whether it's a donation or sending them comic books to use in their care packages to soldiers and children of soldiers, please contact his sisters Carla and Mary at info@nextadventurecomics.com
---
Leroy's Collection
A few years back, Leroy created a video slideshow of his collection room and I've re-uploaded this video as a tribute.

Since this video isn't updated, the photos below are from his collection as well, some are things acquired after the video was created and some stuff is just very rare and unique I wanted to highlight it in his gallery.  Throughout the site where I've used items that came from his collection, I added an "ILM – Collection of Leroy Kersey" graphic under each photo.

Highlights of Leroy's collection, in no particular order.